Bad Drip 50ml E-Liquid Shortfills
Bad Drip Labs is a New York-based e-Liquid brand,
Bad Drip ejuices range to our product lines here at Vapestreams. Great to smooth away the effects of a bad day and turn your mood mellow! Enjoy Flavours Like Bad Drip Apple, Bad Blood, Cereal Trip and much more!!!
This fantastic brand features a concentration ratio of 80% VG ( Vegetable Glycerine ) and 20% Mixed PG ( Propylene Glycol ) and high-quality food flavourings. A perfect blend for sub-ohm vaping!
Bad Apple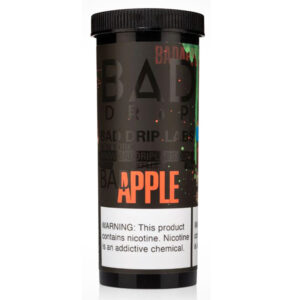 Bad Drip Bad Apple Eliquid vaping juice is a blend of crisp and juicy red and green apples that is an absolute treat to vape. A rich red apple flavour shortfill bursts into life and explodes above your tongue with the first inhale of your vape. In addition, a tangy sensation wraps around itself transforming into a crisp wave of green apples that stimulates your tastebuds with an absolute frenzy of flavours. Finally, both fruits blend into one apple cocktail that leaves a sweet and tangy aftertaste and a sugary exhale.
Cereal Trip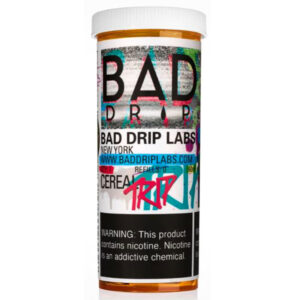 Cereal trip vape juice is a delicious combo of cereals and frosted doughnuts. Upon the inhale you are greeted by a fresh-baked doughnut flavour that awakens your taste buds. Then a fruity loop cereal wave bursts into a rich taste exhale. Imagine your favourite cereal heaped onto a sticky sugar-frosted doughnut then doused with a good helping of sweetened milk; that's what you call a Cereal Trip.
Farley's Gnarly Sauce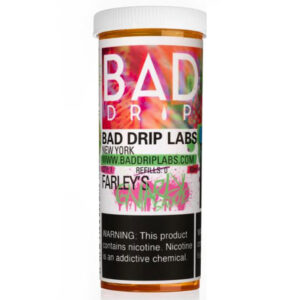 Farley's Gnarly Sauce vape juice is an eclectic mix of strawberries, kiwi and bubblegum. A ripe taste of strawberries welcomes your taste buds right from the first inhale giving them a light tingle. In addition, the flavour gets wrapped in a kiwi tanginess transforming it into an exotic vape experience. Finally, the bubblegum takes over promoting a sweet, fruity and sugary exhale leaving behind a sugary taste on your lips.
Bad Drip 50ml E-Liquid Shortfills – £9.99