Burst My Candy Eliquid 100ml Shortfill
Burst My Candy eliquid comes to us from the Steepologist, a brand that is responsible for Burst my Bubble and Ice lollies ejuice lines. As we know from their previous launches they have a weak spot for deliciousness, Burst My Candy features so far 4 awesome candy blends ready to conquer your taste buds! Presenting flavours like Blackcurrant Gummy, Strawberry Laces, Orange TacTics and Sour Watermelon Candy is hard to resist the temptations.
My Candy eliquid is a fantastic brand that features a concentration ratio of 70% VG ( Vegetable Glycerine ) and 30% Mixed
Orange Tac Tics 100ml E-Liquid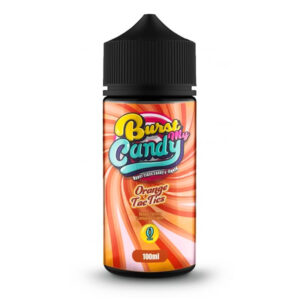 A fantastic vaping liquid blend, featuring citrusy notes of orange and hard candy that takes you on a nostalgic trip down the memory lane with each and every inhale! In addition, the zesty notes persist throughout the inhale leaving a sweet orange candy aftertaste behind.
If you're after an eliquid that tastes like Orange TacTics then Burst my Candy has you covered with this unique and distinctive flavour of vape juice.
Sour Watermelon Candy 100ml E-Liquid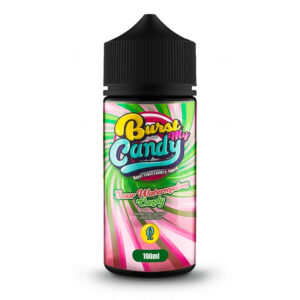 A fantastic vaping liquid blend, featuring juicy chunks of watermelon flavours that are wonderfully complemented by sweet and sour candy notes. In addition, the blend creates a delicious vaping inhale and a sweet exhale with a tangy yet fruity aftertaste. The Sour Watermelon Candy flavour truly one of a kind to try out.
If you're after a distinctive fruity yet sour flavour e-liquid with a bit of a sour twist then this treat by Burst my Candy might hit the spot for you.
Strawberry Laces100ml E-Liquid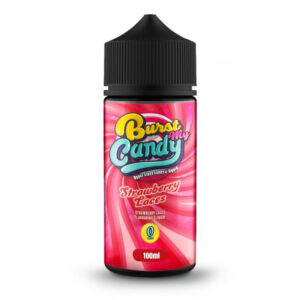 A fabulous vaping juice blend to satisfy that sweet tooth. Strawberry laces feature ripe and sweet strawberry notes highlighted by a sweet gummy lace sweet, with this in mind every vape inhale tastes like you are chewing on a handful of delicious gummy sweets!
This e-juice is definitely one for those with a sweet tooth, if you love strawberry laces from the corner shop then this is the eliquid for you!
Burst My Candy Eliquid 100ml Shortfill – £9.99