Digiflavor Drop V2 RDA
The Drop V2 has been given a complete redesign from the original and it's all for the better. I personally like the space-capsule design and I think that it looks modern, clean, and attractive. It's also super functional, as turning the top cap to adjust the airflow is super smooth and easy.
From a performance standpoint, that's also seen as an improvement from the original. As long as you cut your coil legs to the right length (~5mm), the flavor is excellent. The airflow is also free of any turbulence and feels direct, allowing you to achieve anywhere from a DL draw to a slightly restricted DL draw.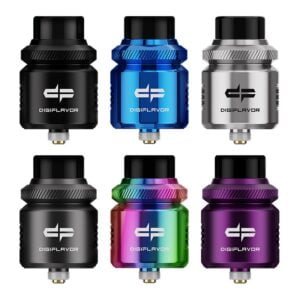 Things have changed, but with the Drop V2, they're nothing but positive changes. If you're looking for a new dual coil RDA to add to your collection, I highly suggest picking one up. I don't think you'll be disappointed.
Box Contents
1 x Drop V2 RDA
1 x BF Pin
1 x Triangular Tool
2 x Cotton
4 x Coils
1 x Spare Parts Pack
Specifications
Diameter: 24.4mm
Height: 35mm (including drip tip)
Dual Coil Build Deck
Quad Post, Four Terminal Deck
Drip Tip: 810
Body Material: stainless steel
Drip / Squonk compatible
5mm deep juice well
Includes BF pin
Digiflavor Drop RDA V2 24mm – £9.99