ELFLIQ By Elf Bar 10ml Nic Salt (50VG/50PG)
Revel in the vaping experience brought to you by the innovative 10mg ELFLIQ By Elf Bar Nic Salts.
Reimagining their celebrated line of disposable vapes, Elf Bar has meticulously crafted these nicotine salt e-liquids to echo the enticing flavours found in their sought-after disposable range. Boasting a lavish lineup of 21 flavours, the ELFLIQ Nic Salts provide a cornucopia of tantalising tastes to satisfy even the most discerning of palates.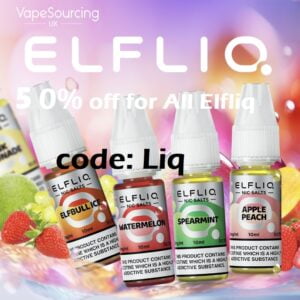 Balanced to perfection, these 10ml Nic Salts feature a 50VG/50PG concentration, ensuring a harmonious fusion of vapour production and flavour preservation. This thoughtful blend makes the ELFLIQ Nic Salts an ideal match for MTL (Mouth-to-lung) vaping devices and kits. The resulting experience delivers discreet clouds of vapour, paired with a smooth hit to the throat that satisfies the cravings of ex-smokers and nicotine enthusiasts alike.
Proudly crafted in the UK, these 10/20mg Nicotine Salt e-liquids come in a standard 10ml bottle, promising a concentrated dose of premium, flavourful nicotine. The perfect companion for your MTL devices and kits, each bottle is equipped with a childproof cap and tamper-evident seal, providing an additional layer of safety and peace of mind.
As part of their commitment to sustainable practices, Elf Bar ensures that both the bottle and box are fully recyclable, promoting responsible consumption within the vaping community. Adhering to stringent TPD regulations, these 10mg/20mg ELFLIQ By Elf Bar Nic Salts demonstrate a high level of quality and consistency.
Made In The UK
10mg Nicotine Salt
10ml Bottle
50VG/50PG
Perfect for MTL Vaping Devices & Kits
Childproof Cap & Tamper Evident Seal
Recyclable Bottle & Box
TPD Compliant
Flavours:
Apple Peach
Blue Razz Lemonade
Blueberry
Blueberry Sour Raspberry
Cherry
Cherry Cola
Cola
Cotton Candy Ice
Cream Tobacco
Elfbull Ice
Grape
Kiwi Passion Fruit Guava
Mango
ELFBAR ELFLIQ 10ml Nic Salts E-Liquid – £1.99