10mg/20mg Fizzy Juice King Bar 10ml Nic Salts (50VG/50PG)
Bringing to vaping life all of your favourite fruit soda and cola flavours, this range of 10ml Fizzy Juice King Bar Nic Salts will definitely put some fizz into your vaping. With up to 25 flavours to choose from and 10mg of nicotine, you and your taste buds will experience both excellent, high-quality tastes and nicotine satisfaction.
At a fairly balanced 50VG/50PG ratio, each flavour for the Fizzy Juice King Bar Nic Salts range will grant users a smooth vaping experience from the first puff. Each flavour will not hit your throat too harshly as the nicotine inside the nic salt will be absorbed into the body more effectively than with standard e-liquids therefore making them ideal for MTL vaping pods and kits.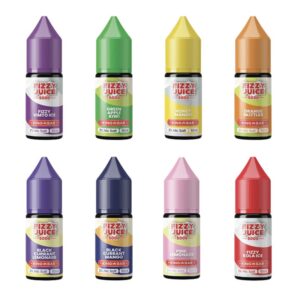 – Made In The UK
– 10mg Nicotine Salt
– 10ml Bottle
– 50VG/50PG
– Ideal for Mouth to Lung (MTL) Vaping, Pods & Starter Kits
– Childproof Cap & Tamper Evident Seal
– Recyclable Bottle & Box
– TPD Compliant
Flavours:
Blackcurrant Mango
Wildberries Ice
Watermelon Ice
Red Apple Ice
Raspberry Sherbet
Blue Razz Lemonade
Orange Skittles
Peach Mango
Mr Blue
Mango Guava
Honey Mango
Green Apple Kiwi
Blackcurrant Lemonade
Fizzy Vimto Ice
Blueberry Raspberry
Blueberry Ice
Apple Skittles
Strawberry Watermelon Bubblegum
Strawberry Ice
Pink Lemonade
Fizzy Bull Ice
Apple Peach
Fizzy Kola Ice
Fizzy Punch Ice
Grape Skittles
Fizzy Juice King Bar Nicotine Slat E-liquid 10ml – £2.99