Innokin Klypse Mecha Pod Kit 18W
The Innokin Klypse Mecha pod kit is a smart and simple option, ideal for beginners or experienced vapers. The built-in 900mAh battery lasts for longer between charges and supports the kit's 6-18W output. Ideal for MTL (Mouth To Lung) vaping, the Mecha produces a discreet amount of vapour and each kit includes two refillable 2ml pods to help you get started.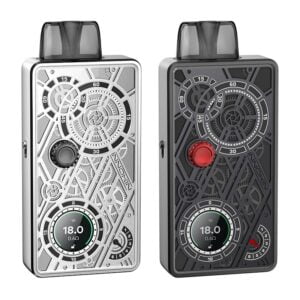 Features:
MTL Pod Kit
900mAh Battery
6-18W Output Range
Single Button Activation
Smart Mode
Variable Wattage Mode
2ml Refillable Pods
Built-In Coils
Boasting single-button activation, you can start vaping the Klypse at the click of a button. Thanks to Smart mode your kit will recognize which pod is installed and selects the best power output based on the resistance of the pod's built-in coil. If you're looking to experiment a little you can also take advantage of the kit's Variable Wattage mode and manually select a power output for your preferred balance of vapour and flavour production.
Topping up the Klypse pods is easy, lift the rubber stopper on the side to fill it with juice. The built-in coils put an end to fiddly coil changes, you just have to change the pod, while the mesh build delivers better flavour by heating more e-liquid at a faster rate. When it comes to selecting a liquid, you'll want to pair the Klypse with a high PG or 50% VG e-liquid for best results, with nic salts being a popular option.
Contains:
Innokin Klypse Mecha Device
0.6 Ohm Innokin Klypse Pod
1.2 Ohm Innokin Klypse Pod
USB-C Charging Cable
User Manual
Innokin Klypse Mecha Kit – £19.99