Is this device all vape and infinity mirrors or does it really pack a punch underneath?
What is the Joyetech Espion Infinite
The Espion Infinite is the new flagship kit from Joyetech, and it really makes its mark in the market.  It really is one of those mods that will split opinion down the middle on first looks.  The main feature for this device is the infinite mirror design on the screen and the glowing lights around it that looks fantastic, but how well does it actually perform?  In the kit you get the Infinite mod and Procolour tank, but before we get into that, lets start with the details of what you actually get.
In the Joyetech Espion Infinite box
Espion Infinite Mod
Procore Conquer tank
2 x Ijoy 21700 batteries
Pro CA  0.4 ohm coil
ProCD 0.15 ohm coil
18650 battery sleeve
Charging usb cable
x2 manuals
Spare O rings
Warranty card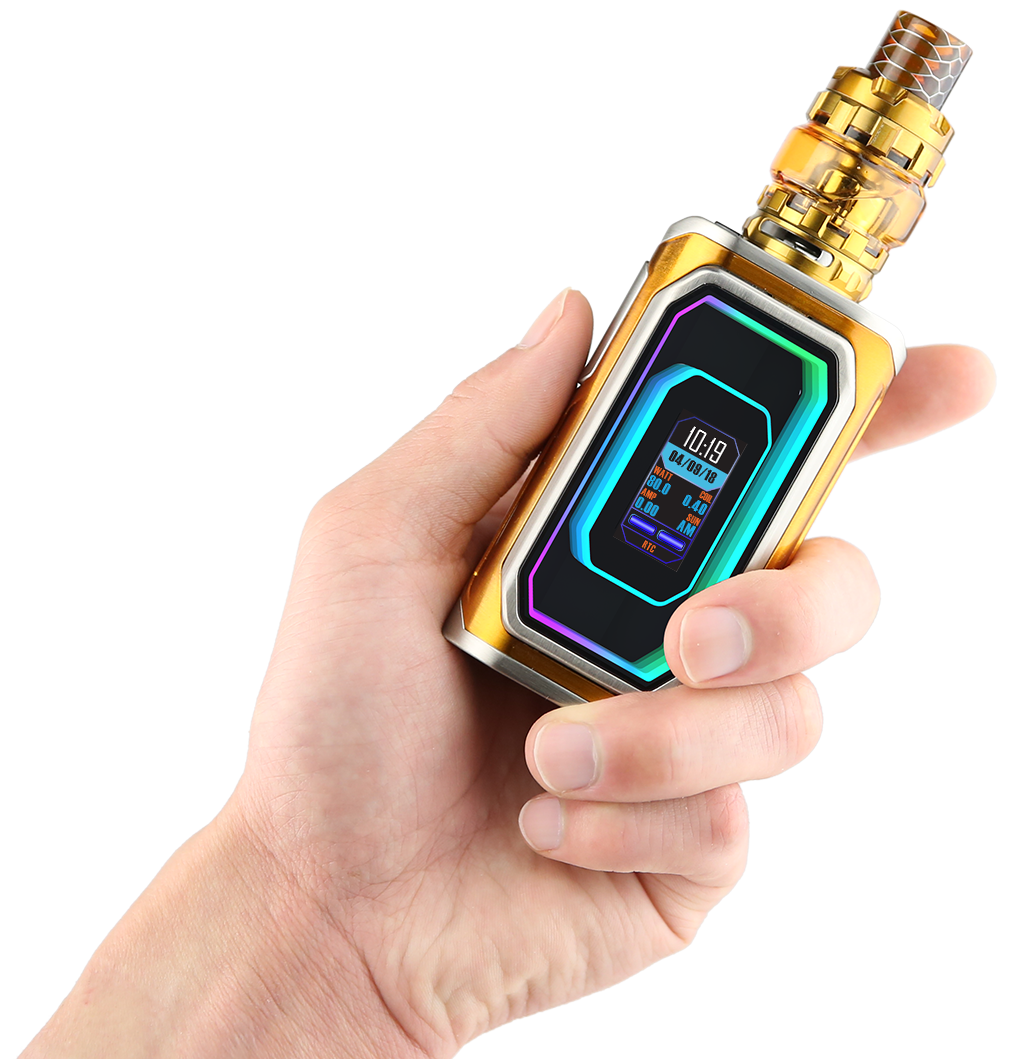 The Procore conquer tank comes with 5.5 mil capacity glass in both clear and matching colour versions in the box.  It has a top filling system with a slide open and a kidney shaped filling hole as seems standard in most tanks out now.  The tank is a 25 mm with a 810 replaceable drip tip and it comes in at a 25mm tank so compatible with any mod.  It has bottom adjustable airflow ring and bottom designed coils.  The design is quite unique compared to other tanks with a jagged edge design which isn't sharp to touch.  I really like the look of this tank and it does stand out from other sub ohm tanks.
Colour Options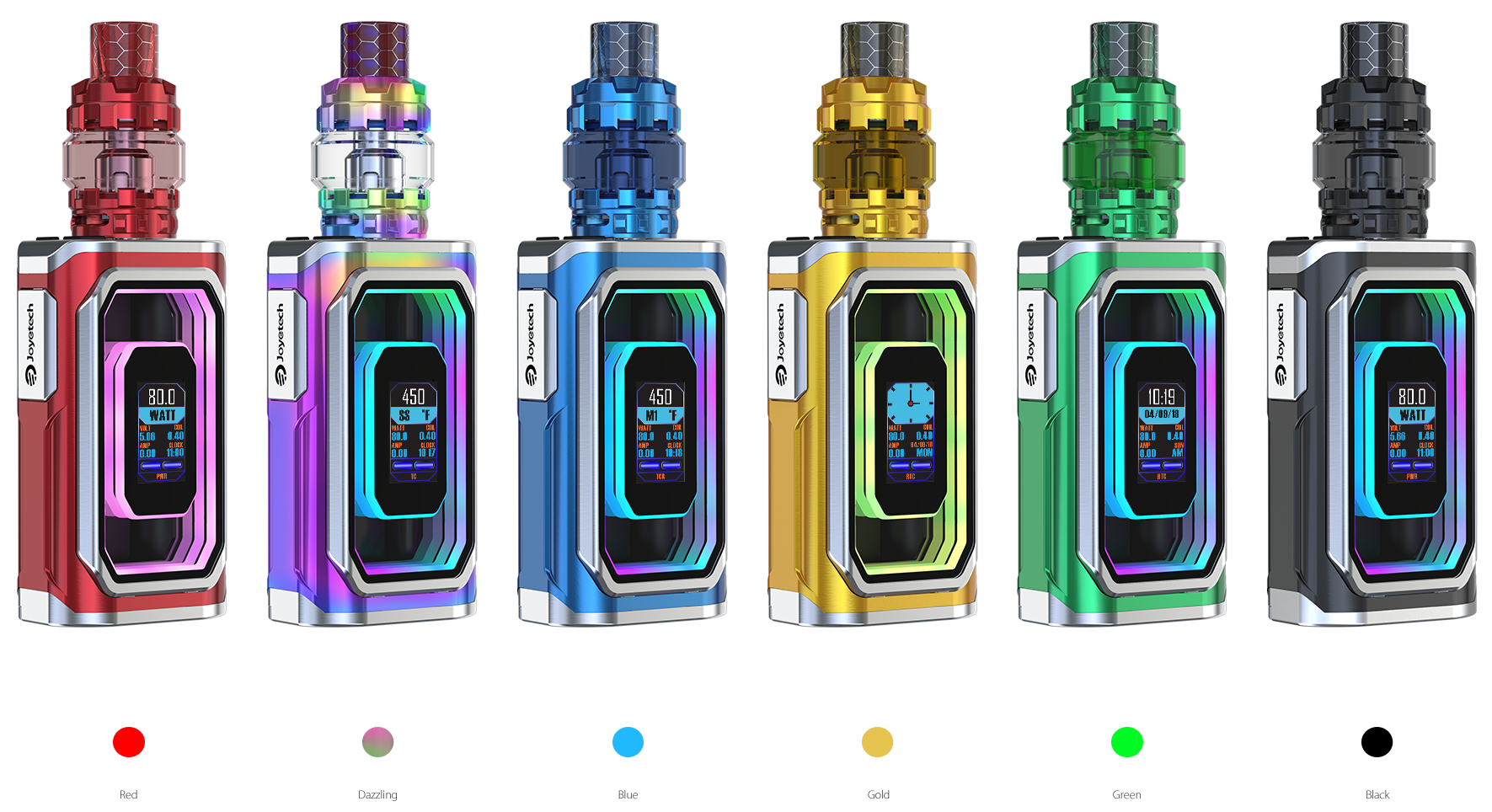 About the mod
The mod is a rectangle shaped mod with a bottom hinge battery door.  Inside the compartment there is a white and red/blue colour which clearly show positive and negatives.  the screen is .96 inch colour screen surrounded by LED lights on top of an infinite mirror design.  The LED lights come in 10 different modes to choose from with each differing from the last in motion/colours.   The LED lights also light up when firing, in a different non customisable way.  The mod has a side fire button located at the top of the mod, on the left hand side designed with a joyetech logo engraved.  There are two navigation buttons placed on the top of the mod leaving the front face clean.  The menu system has 4 options accessed through 3 clicks of the fire button, LED / Settings / Mode / Timeout/ Exit.  Mode comes with 4 options, Watt / TCR / TC and RTC, settings has several options including pre heat wattage, clock, screen colour, vaping information stealth mode and battery info.  The device works with a 5 second press of navigation buttons to lock and 5 clicks of the fire button to turn off the device.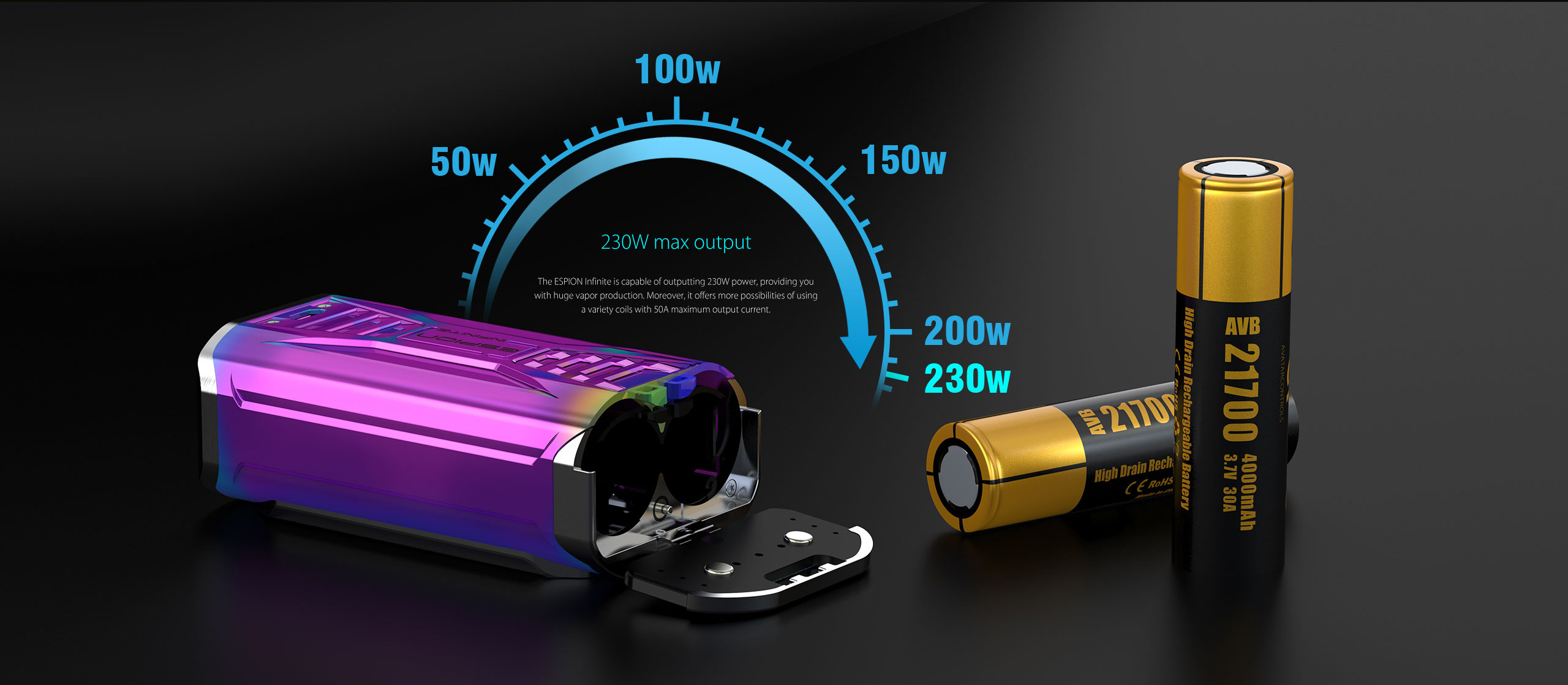 Pros
So overall thoughts on the Espion Infinite time.  I love the kit, i really think the device is a well made and well performing device.  The tank has great flavour and vapour production at around 70-80w for a standard coil in comparison with mesh out there and the unique design mixed with the coloured glass make it stand out from others.  the mod itself will be sold on the light features and mirror design but that is selling the mod very short.  the features on the mod are fantastic, with being able to set pre heat, different customization options, it has date and time (which is always a bonus to me) and even tells you what volts your batteries are on.  Using the pre packaged 21700s the battery life lasted me 3 days without the lights turned on, incredible battery life and that was with daily use as my only mod.  I put the batteries in on a Thursday evening and they died Sunday morning, fantastic!  The device feels strong and well made and the centered 510 pin means you can use much bigger tanks on there, however anything close to 30mm would impact access to the navigation buttons.  This was a kit I was excited to buy when it was released and to be honest, it will form part of my main mods that I use, even just for the battery life.  The Procore tank impressed me for a pre packaged tank, you wouldn't be disappointed using it out the box.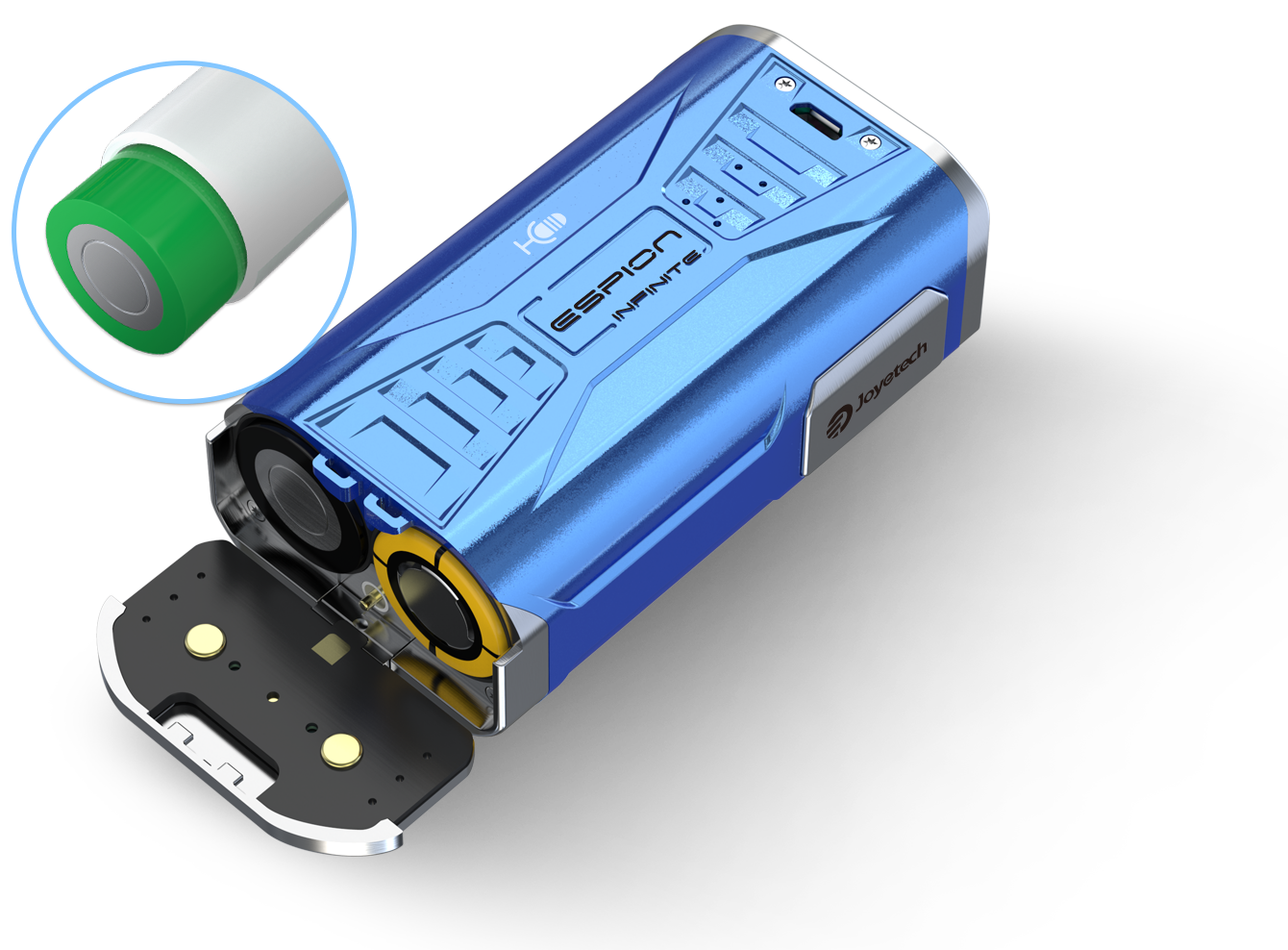 Cons
The cons for this device are few but worth mentioning.  The first one being the battery door is not watertight.  I would personally prefer a slight tighter battery door to prevent any liquids getting in if in a spillage, it doesn't let in liquids generally so the door works fine.  However i have found sitting in liquid and the liquid can get into the device, so small con but worth mentioning.  the second con for me is the lights, once you turn them on they stay on, and eat into your battery life extensively.  Leaving them on overnight it drained close to a third of the battery over 8 hours, so as pretty as they look, remember to turn them off!  another thing worth mentioning is that you can feel the batteries moving slightly inside when picking the mod up.  Again this goes back to the battery door and connections not being tight enough, it doesn't impact performance but you can feel it.  The screen is a little rattly on touch also, but it still feels strong enough to withstand a blow most mods can survive.
Overall
If you don't like any idea of the lights then this kit won't be for you.  It is the main selling feature so on face value you either love it or hate it.  However under the hood it is a very good mod, with great features and well built device with a nice packaged tank.  If you want a device that brings battery life and performance then this is the kit for you.
Fantastic Mod that will Polarise but never disappoints
This is a kit that provides a great tanks and a well performing mod combo. the polarising lights can be overlooked simply for the device underneath matching any other mod on the market for options and performance.
PROS
Well built
Comfortable to hold
Tank has great flavour / vapour
Great options within the menus
Simple to use
Lights are fantastic (opinion)
Capacity of glass
Great display information
CONS
Battery rattle when Shaking the device
Lights left on can drain the battery
Battery door not watertight
Mod is heavier than others on the market.
Add your review