VOOPOO Drag Nano 2 Kit on Sale @ Vawoo
Best Price on the UK Market!
Key Features:
✔ 800mAh built-in battery with 20W max output
✔ 2ml e-juice capacity, easy top filling system
✔ Equipped with two Pods of 0.8Ω and 1.2Ω
VOOPOO Drag Nano 2 Pod Kit Short Description:
Drag Nano 2 Kit is designed with small but powerful body. It is powered by built-in 800mAh battery with 20W max output. There are smart match or 3 adjustable power modes for your option. The 3-color LED lights can clearly show you the output power and battery status. The seven protections can guarantee the safe use of the Kit. Drag Nano 2 Kit has 2ml e-juice capacity and visible cartridge. It also features top filling system, which is easy to refill and leak-resistant. The innovative infinite airflow system can better suit your preference and deliver you the most authentic flavor. In addition, it adopts the super sensitive atomizer and powerful Gene chip to make super fast ignition. Drag Nano 2 Kit is compatible with VINCI Pod Cartridge. It is also equipped with two Pods of 0.8Ω and 1.2Ω to bring you different but excellent vaping experience.

Specifications
VOOPOO Drag Nano 2 Pod System Kit Parameters:
| | |
| --- | --- |
| Brand | VOOPOO |
| Product Name | Drag Nano 2 Kit |
| Size | 71.5* 44* 14.2mm |
| Battery Capacity | Built-in 800mAh battery |
| Charging Type | Type-C charging |
| Output Power | 8-20W |
| Output Voltage | 3.2~4.2V |
| Resistance | 0.1~3.0Ω |
| Power Mode | White-High Power, Mid Power, Lower Power |
| Pod Type | Drag Nano 2 Cartridge (1.2ohm), Drag Nano 2 Cartridge (0.8ohm) |
| E-juice Capacity | 2ml |
| Filling Type | Top filling |
| Airflow Adjustment | Innovative infinite airflow system |
| Compatible With | Drag Nano 2 Cartridge/VINCI Pod Cartridge |
| Protections | Output over-current/over discharge/max power/short-circuit/overtime/over-temperature/overcharge protection |
| Color | Sparkle Champagne, Powder Blue, Carbon Fiber, Tea Green, Gull Grey, Orange, Classic Black, Classic Red |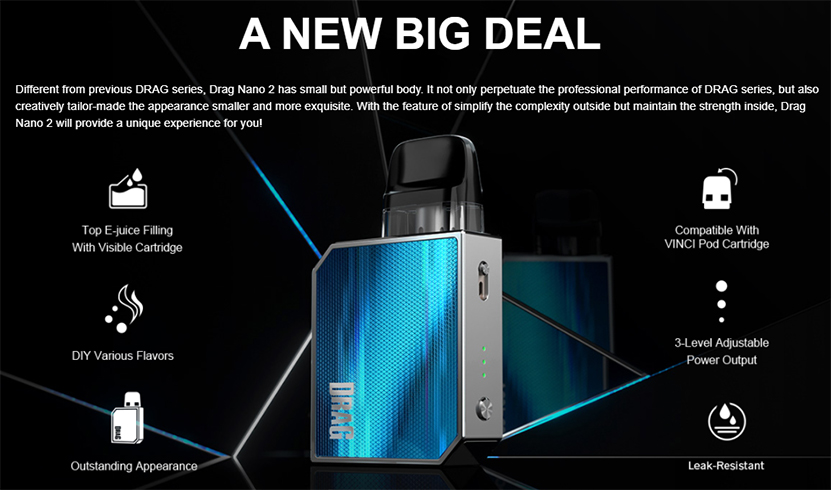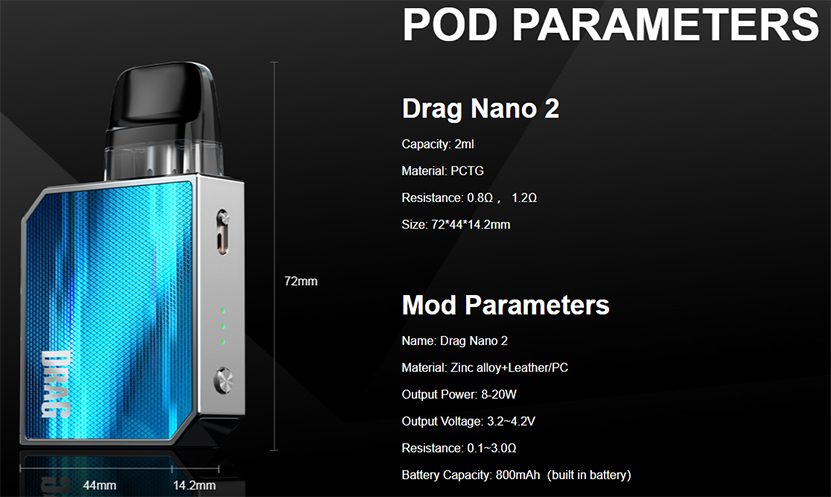 Features
VOOPOO Drag Nano 2 Details:
1. Small but powerful, delicate and unique
2. Zinc alloy material for ultimate metallic hand feeling
3. Lanyards for easy vaping anytime and anywhere
4. Innovative infinite airflow system to deliver the most authentic flavor
5. Top filling system, easy and leak-resistant
6. 2ml e-juice capacity, visible and transparent
7. Compatible with Drag Nano 2 Pod Cartridge/VINCI Pod Cartridge
8. Super sensitive atomizer and powerful Gene chip for the fast ignition
9. Equipped with two Pods of 0.8Ω and 1.2Ω to deliver different flavor
10. Powered by built-in 800mAh battery with 20W max output
11. Smart match or 3 adjustable power modes for your option
12. 3-color LED lights to clearly show you the output power and battery status
13. Output over-current/over discharge/max power/short-circuit/overtime/over-temperature/overcharge protection
Package Contents
The package of VOOPOO Drag Nano 2 Vape Kit Comes With:
1* Drag Nano 2 Device
1* Drag Nano 2 Replacement Pod (0.8ohm)
1* Drag Nano 2 Replacement Pod (1.2ohm)
1* Type-C Cable
1* User Manual
1* Lanyards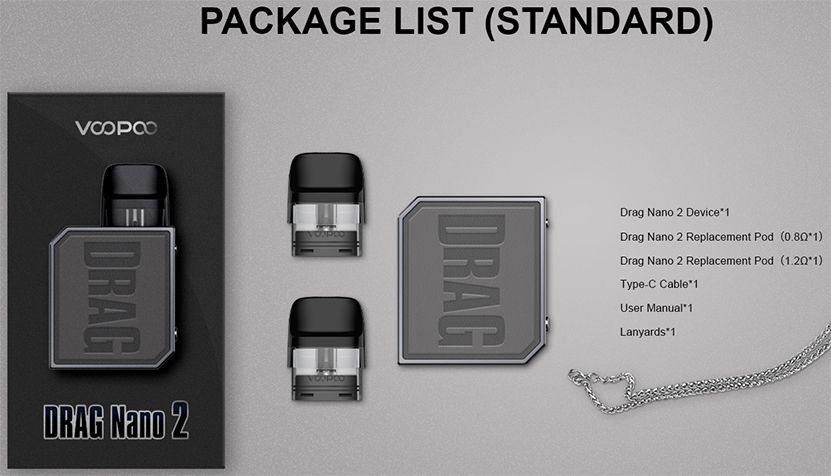 VOOPOO Drag Nano 2 Kit on Sale @ Vawoo