VOOPOO VINCI Q Pod on Sale @ Vawoo
New Arrival! Best Price on the UK Market!
VOOPOO VINCI Q Pod Kit Description:
VINCI Q Pod Kit inherited VOOPOO's unique ITO atomization tech to bring the purest flavor. It is casted by the two-tone textured injection mold and has 6 macaroon colors. Made of lightweight PC & ABS materials, it is durable in use and fashionable in appearance. VINCI Q Pod Kit is powered by a built-in 900mAh battery with Type-C charging. It comes with 11-15W adaptive power, which can intelligently match the best power to 0.8ohm or 1.2ohm cartridge. Benefit from the GENE chip and smooth airway, it has button/auto dual vaping modes and faster ignition to bring you better vaping experience. It also has 2ml e-juice capacity and easy top filling system. In addition, VINCI Q Pod Kit is compatible with VOOPOO VINCI Pod Cartridge (Side-fill) and Drag Nano 2 Pod Cartridge (Top-fill) .
Specifications
VOOPOO VINCI Q Pod System Kit Parameters:
| | |
| --- | --- |
| Brand | VOOPOO |
| Product Name | VINCI Q Pod Kit |
| Material | PC & ABS materials |
| Battery Capacity | Built-in 900mAh battery |
| Modes | Button/auto dual vaping modes |
| Charging Type | Type-C charging |
| Output Power | 15W |
| Input Voltage | 3.2-4.2V |
| Resistance | 0.3-3.0Ω |
| E-juice Capacity | 2ml |
| Filling Type | Top filling |
| Fit For | VINCI Pod Cartridge Mesh 0.8/1.2Ω (Side-fill) and Drag Nano 2 Pod Cartridge (Top-fill) |
| Color | Ceramic White, Seagull Grey, Crystal Blue, Charming Pink, Vibrant Orange, Moss Green |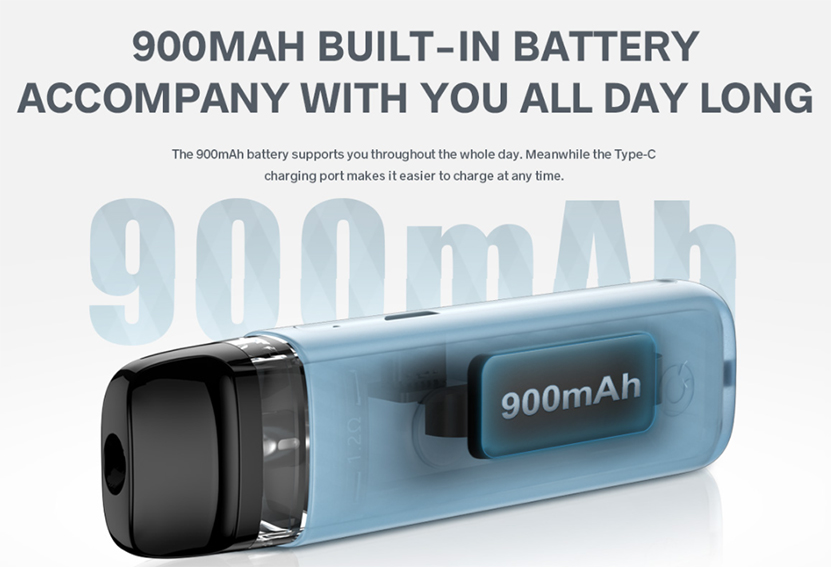 Features
VOOPOO VINCI Q Details: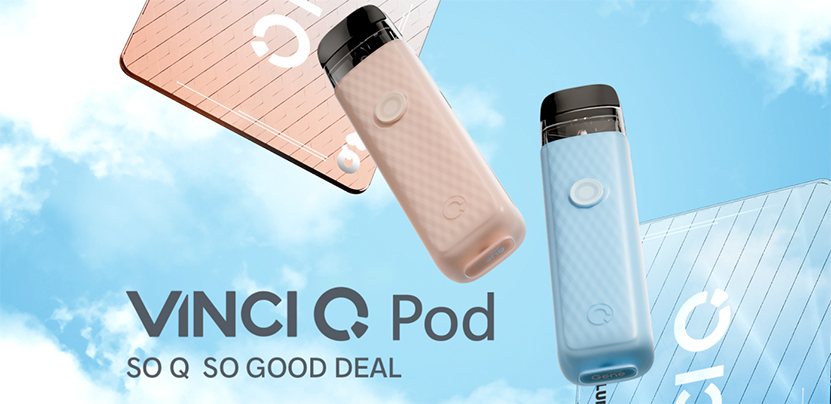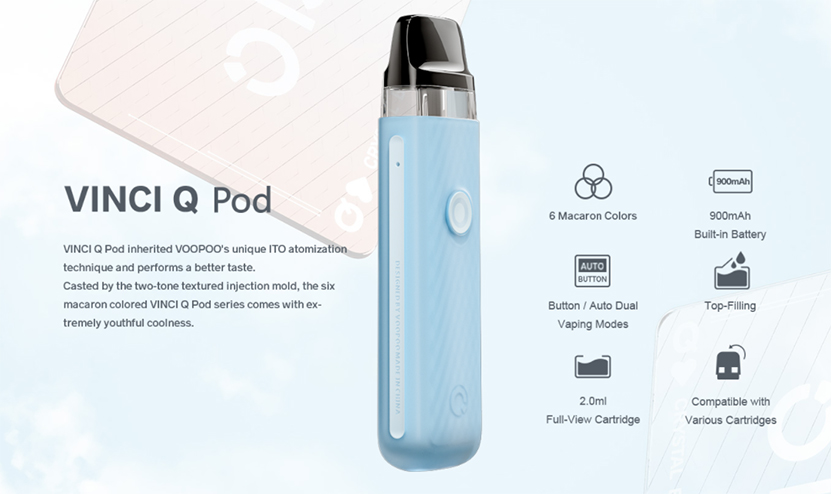 1. Inherited VOOPOO's unique ITO atomization tech
2. Two-tone textured injection mold, 6 macaroon colors
3. Lightweight ABS and PC material, durable and fashionable
4. Adopts the latest mesh tech to bring wonderful taste
5. Button/auto dual vaping modes to satisfy your preference
6. Strong GENE chip and smooth airway, faster and more sensitive
7. Lights on and off along with each puff
8. Built-in 900mAh battery, Type-C charging port
9. 11-15W of adaptive power to match the best power to 1.2/0.8Ω cartridge
10. 2ml full-view cartridge, easy and leakproof top filling system
11. Fit for VOOPOO VINCI Pod Cartridge (Side-fill) and Drag Nano 2 Pod Cartridge (Top-fill)
12. Overtime/overcharge/over discharge/over temperature/short-circuit/output over-current protection
Package Contents
The package of VOOPOO VINCI Q Vape Kit Comes With:
1* VOOPOO VINCI Q Pod Device
1* VOOPOO VINCI Pod Cartridge (Top-fill, 1.2Ω) (Same as the Drag Nano 2 Cartridge)
1* Type-C Cable
1* User Manual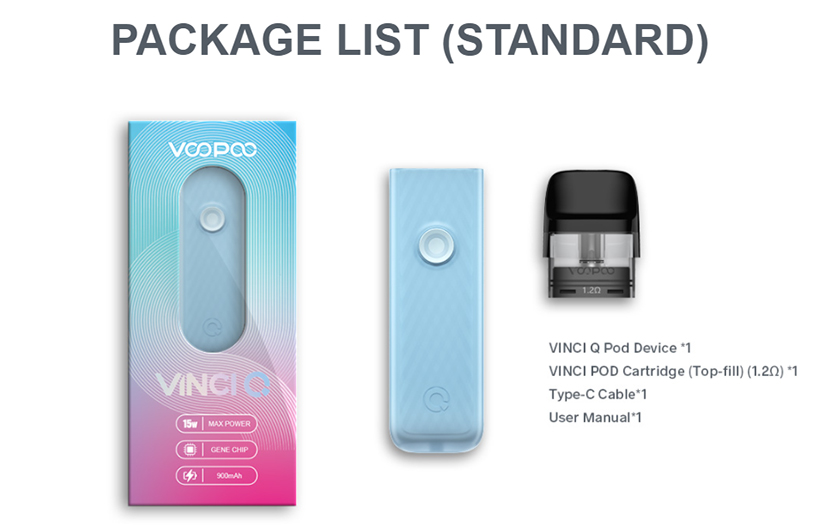 VOOPOO VINCI Q Pod on Sale @ Vawoo