Yalla Yalla Cool 100ml Shortfill 0mg (70VG/30PG)
Bringing a chilly twist to their range, Yalla Yalla Cool 100ml 70VG/30PG Shortfills contain 0mg nicotine and will make for truly mouth-watering experiences. With eight flavours, ranging from Banana ice, Grape ice and Watermelon Ice, you'll experience a lovely chilly kick to each Yalla Yalla Cool flavour you'll pick.
As high VG e-liquids, the Yalla Yalla Cool shortfills are perfect for Sub-Ohm devices and coils with DTL (Direct to Lung) vaping so you'll get strong flavouring and vapour production for overall memorable vaping experiences. In addition, there's room for two nicotine shots to get your nicotine carvings cited during vaping as well.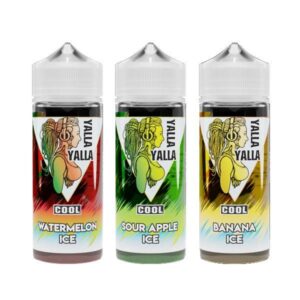 – Made in the UK
– 0mg Nicotine Strength
– 100ml E-Liquid Content in a 120ml Shortfill Bottle
– Space for 2 x 10ml (18mg) Nicotine shots
– 70VG/30PG
– Ideal for Sub-Ohm Devices and Kits
– Childproof Cap and Tamper Evident Seal
– Recyclable Bottle
– TPD Complaint
Flavours:
Banana Ice
Cola Ice
Grape Ice
Mango Ice
Passion Fruit Ice
Pineapple Ice
Sour Apple Ice
Watermelon Ice
Yalla Yalla Cool Shortfill E-liquid 100ml – £5.99