Yocan Regen Vaporizer Kit on Sale @ Vawoo
Limited Time offer and Limited Stocks, Hurry up to get one.
Regen Kit is a highly advanced concentrate vaporizer. With 1100mAh battery, built-in silicone jar and lanyard, It is perfect for on-the-go. The design of magnetic connection between atomizer tube and base, make it more easy to use and save your time. There are two coils for Regen, QTC coil is made for giant clouds and hits, QDC coil will offer the purest experience. 3 functional adjustable voltage options: 3.0V, 3.5V, 4.0V. Equipped with hanging ring, you can keep your decvice safe.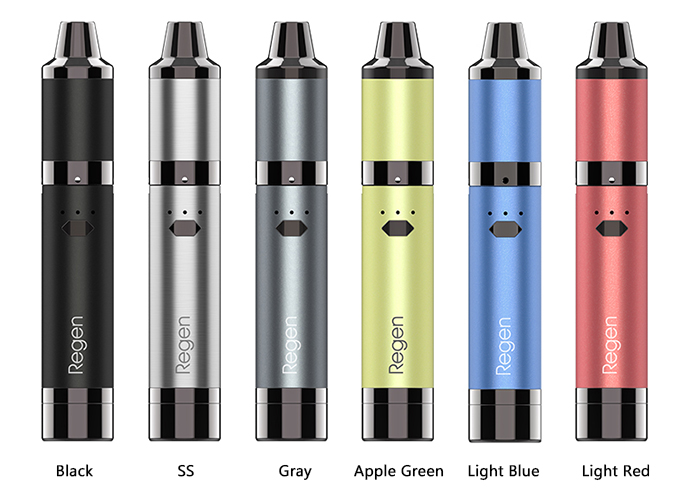 Yocan Regen Kit Details:
1. A highly advanced concentrate vaporizer
2. Built-in silicone jar and lanyard
3. Magnetic connection between atomizer tube and base
4. Two coil options: QTC coil(perfect for cloud chasers) and QDC coil(provide purest experience)
5. With 3 voltage levels: 3.0V, 3.5V, 4.0V
6. Detachable hanging ring
7. 1100mAh battery with USB charging
8. Compact and portable
Yocan Regen Vaporizer Kit Parameters:
| | |
| --- | --- |
| Brand | Yocan |
| Product Name | Regen Kit |
| Battery Capacity | 1100mAh |
| Coil Type | QTC coil and QDC coil |
| Voltage Levels | 3.0V, 3.5V, 4.0V |
| Colors | Black, Stainless Steel, Gray, Apple Green, Light Red, Light Blue |
The package of Yocan Regen Starter Kit Comes With:
1 Regen Device(with QTC Coil)
1 QDC Coil
1 Pick Tool
1 User Manual
1 Hanging Ring
1 USB Charger
Yocan Regen Vaporizer Kit on Sale @ Vawoo